Bolt-Lengthening Electrical Heaters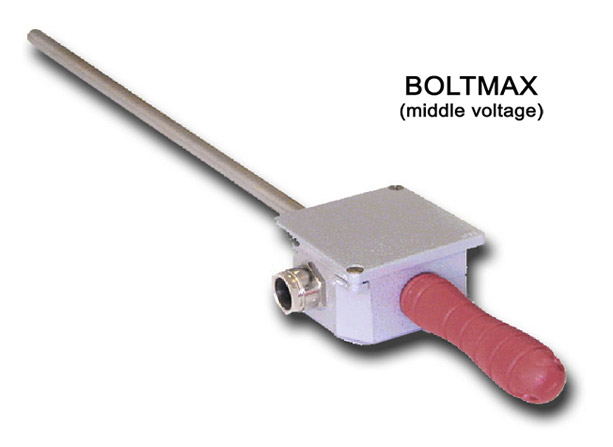 Electrical bolt heaters are designed to be inserted into holes that are purposely drilled in bolts. They very rapidly thermally lengthen the bolt, letting the nut be further turned on it, therefore providing the highest torque.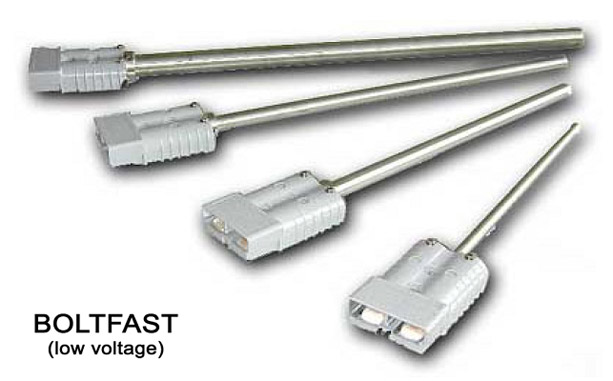 BOLTIVIAX Middle-Voltage Bolt Heaters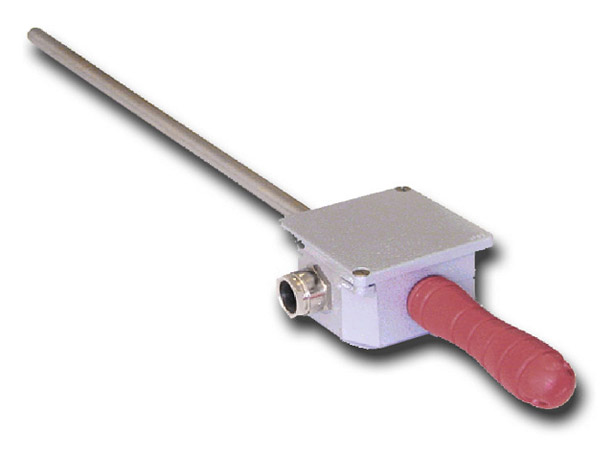 Features


Sturdy plastic-rubber handgrip with rough anti-slide surface.

Heavy aluminium fusion painted box for electrical connection.

Cable fastener especially designed to avoid tearing or cutting of the cable.

Feeding cable, optional, with silicone rubber sheath, length to be specified.

Working temperature in free air: 800°C with 8 W/cm2.

Construction designed for keeping an excellent linearity in time.

Applications
Turbines, motor heads, shipbuilding, pressure boilers, flanged pressure pipings, civil construction, mechanical and hydraulic presses, molds.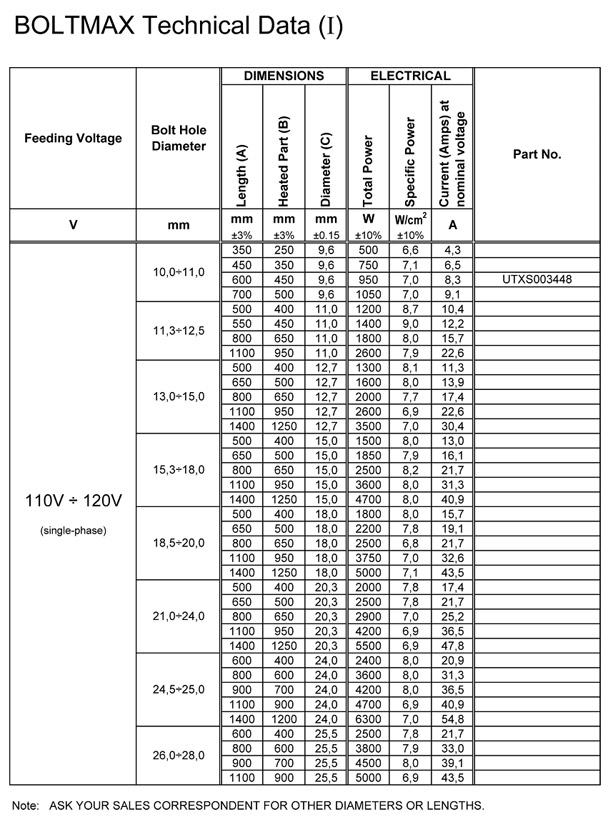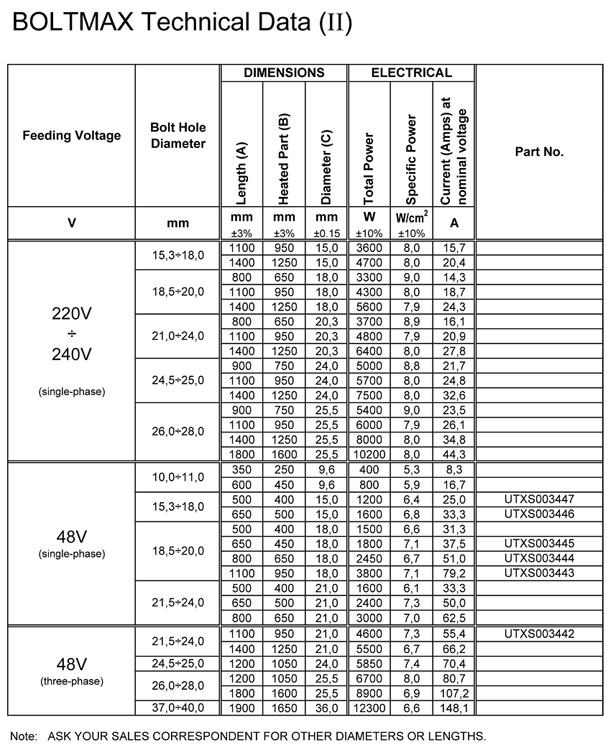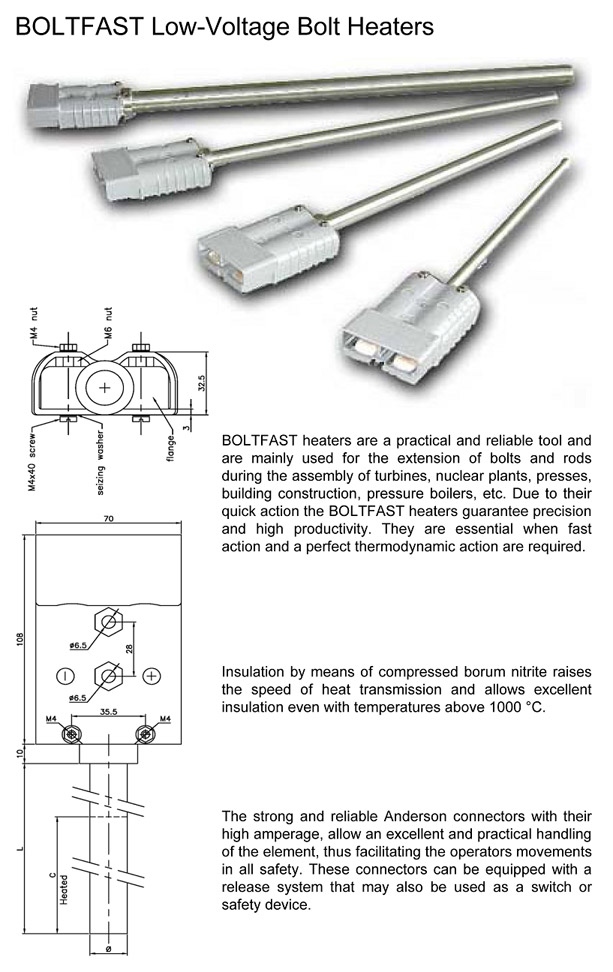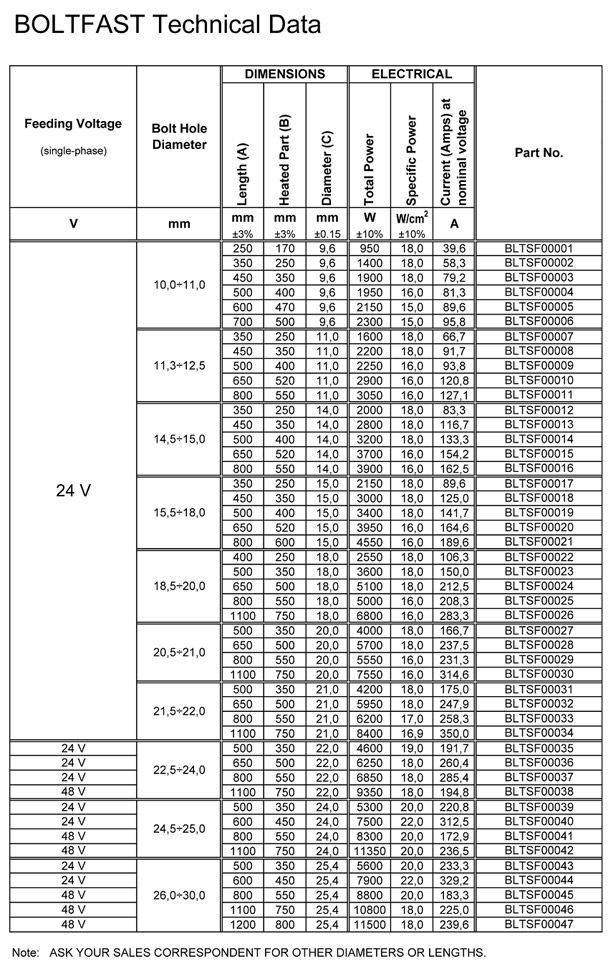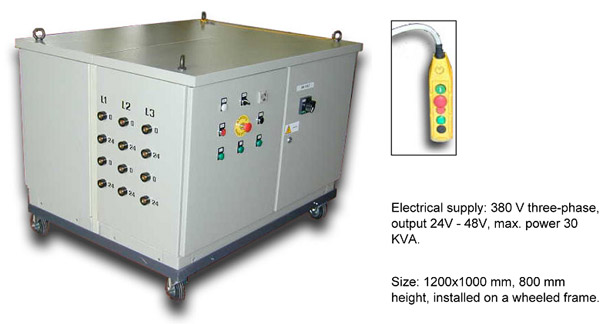 Control Panel for Bolt Heaters
The cabinet accommodates the following components;
1 door locking master switch
1 isolation transformer, power: 30 KVA, firm power: 3BDV, 50Hz, three-phase, interruptible power; two separate windings for 24 V 200 A (5000 W) phase
3 contactors
3 disconnecting switches
12 output terminals
Serial or parallel coupling of phase windings allow the following supply selections;
6 24 V insulated elements, maximum rated power, 5 KW
3 24 V grounded elements, maximum rated power, 10 KW
3 48 V insulated elements, maximum rated power, 10 KW
A set of controls and commands has been provided for, and more particularly;
1 timer for heating-up time pre-setting
1 automatic - manual switch
1 OFF switch
1 ON switch
1 phase ON led
1 emergency stop push-button
1 remote control socket
1 undervoltage led
Cable
Connection Process
Once the line connection has been established and the conduction of electricity across the surface ascertained, resistors can be connected as follows
Less than 5 KW resistor. use a cable set for each heating element, connected between 0 ~ 24 V to a single core, for a maximum of 6 resistors. Whenever connecting more than one resistors, cores should be used in a balanced manner 24 \/ resistor, from 5 KW higher to a maximum of 10 KW Use two cable sets for each heating element Connect one set to the two O terminals of a single core, and the other to the two 24 V terminals of that same core, up to a maximum of three resistors. Use an appropriate clamp to connect two cable sets to one resistor. 48 V resistor, maximum rated power 100 KW. use a cable set, connect one cable to the upper 0 Vterminal, and one cable to the lower 24 V terminal, slide a bridge in between the two central UV - 24V terminals mounted on the same core: three resistors at most
Heating Process
Drive the resistors into the tie rod to be heated Select the required function and power supply the cabinet. Manual function as soon as the "start" push~button is turned ON, resistors start heating until an interruption occurs by pressing the "stop" or "emergency" push-buttons. Automatic function as soon as the "start" push-button is turned ON, resistors start heating for a pre-established period of time, before being automatically switched OFF Interruption occurs anytime by pressing the "stop" or "emergenm/' push-buttons. Timer adjustment· make sure the timer is set to "E". Pre-set the timescale with a screwdriver, before turning the handle to the heating time required. Turn the selector ON and press the "start" push-button, Remote control; same operations apply, but for the cabinet "start" push-button being disabled.