ULTRAMAX High Power-Density Cartridge Heaters
ULTRAMAX are a new generation of high wattage electric heating elements, having high power in a limited area and ensuring, all the same, excellent reliability under heavy-duty working conditions. The special technology used in their construction make them the most advanced type of heating element.
The nickel chrome wire wrapped around a magnesium oxide core is situated in a peripheral position, with a very thin compressed insulating layer between wire and sheath. This allows efhcacious heat exchange, thus maintaining the temperature of the resistance wire at a much lower level compared to other heating elements where the wire is situated in the center. Furthermore, not only do they owe total reliability to the use of advanced technology and precise inspection techniques during manufacture, but also to the use of Hrst-class material from the best sources on the market.
Over 60,000 models on stock
Over 60,000 standard, semi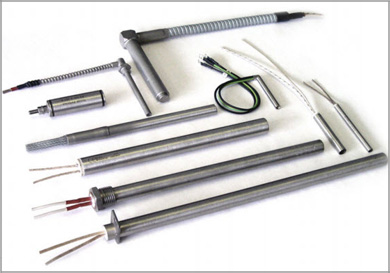 finished elements are kept on
stock, ready to be finished
according to customer
specification, for example
sealing, cable outlet, cable and
insulation type, cable length
fittings and various other options.
Therefore the ULTRAMAX
heating cartridges can usually
be customized and shipped
within 3 working days from
order receival. This large
quantity of semi-finished
heaters kept on Stock
guarantees swift shipment of
ordered quantities even in case
of particular specifications.
Standard U LTRAIVIAX, Metric Sizes
Unheatad length is 5 mm from bottom end and 10 mm from cable end. See tolerances further down.