PIROMAX Sealed-Band Nozzle Heaters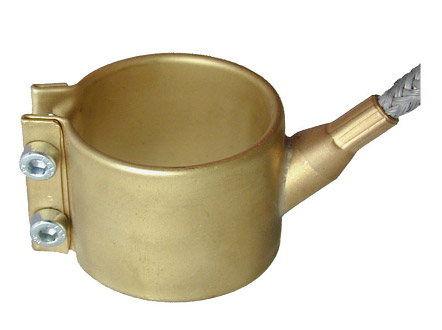 Features

PIROMAX nozzle heaters are a top-quality product, result or our unique high-technology. They are completely against external agents such as melted plastics. PIROMAX are a rugged product that resists very well to wearing and shocks. Their high watt-density per square centimeter allows a fast and safe reaching ofthe required working lemperature. During manufacturing. the heaters are submitted to extremely high pressure that ensures high insulation. excellent themnial exchange. lack of internal voids. perfectly smooth contact area for an optimum and uniform heat transfer lo every part. ot the nozzle. The inner protile is perfectly round, providing a perfect coupling with me nozzle. Size of the connecong cap is minimal, giving extremely limited overall dimensions. Power connection is performed by a metal braided cable, standard length 1 m. with two nickel power leads plus a galvanizedcopper ground lead.
Technical data
- Brass tubular sheath (also available in stainless steel, for oorrosive materials such as PVC).
- Standard power density: brass 4.5 W/cm, stainless steel 7 W/cm.
- Tear-resistent connection of power cable.
- Dielectric strength: 1500 V.
- Perfect roundness.
- Extremely small connecting cap.
Connection Options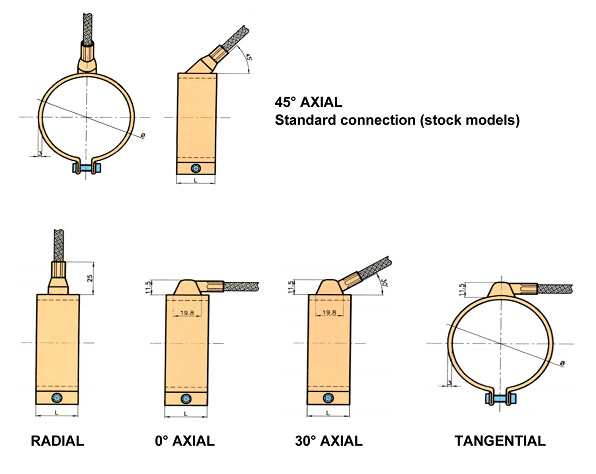 Fitting Instructions
- A 4-mm exagcnal wrench shall be used.
- There shall be no gap between nozzle and heater (loose-fitting heaters shall not be installed).
- After initial heating-up, clamping screws should be re-tightened .
- Repeated bending of the cable near its junction into the heaters should be avoided.
- Plastic material on the heater's surface rnust be removed by raising the temperature of the material.
Avoid hammering or tearing to clean off attached plastics.

Im portant

- All PIROMAX heaters can be supplied with a built-in .J-type thermeobuple.
- PIROMAX heaters are supplied in packets of five units each.
PIROIVIAX Brass Heaters
Siandard models are 230 V, wlth 45° axial cunnectlon and 1m-long metal-braided cable, lncluslve of ground conductor.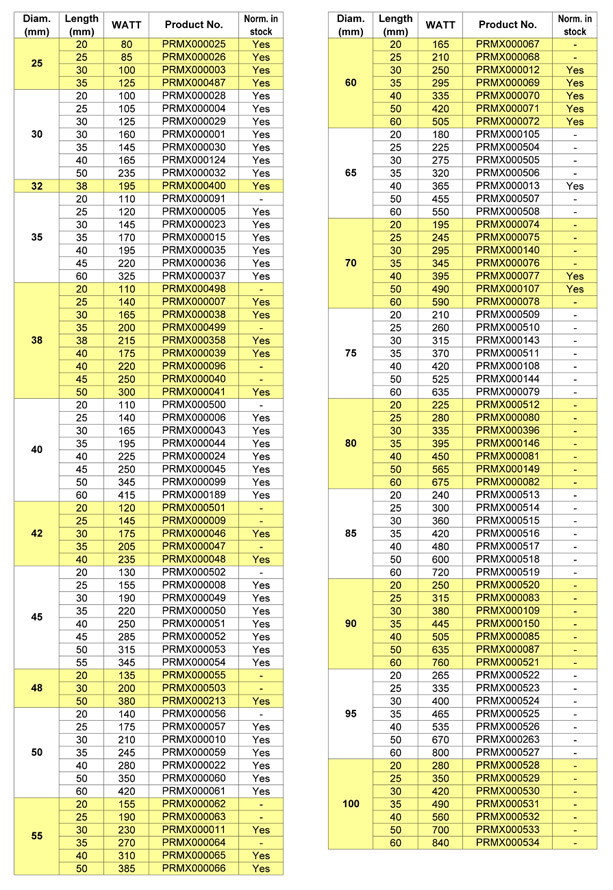 PIRO MAX Stal nless-Steel Heaters
Standard models are with 45° axial connection and 1m-long metal-braided cable, inclusive of ground conductor.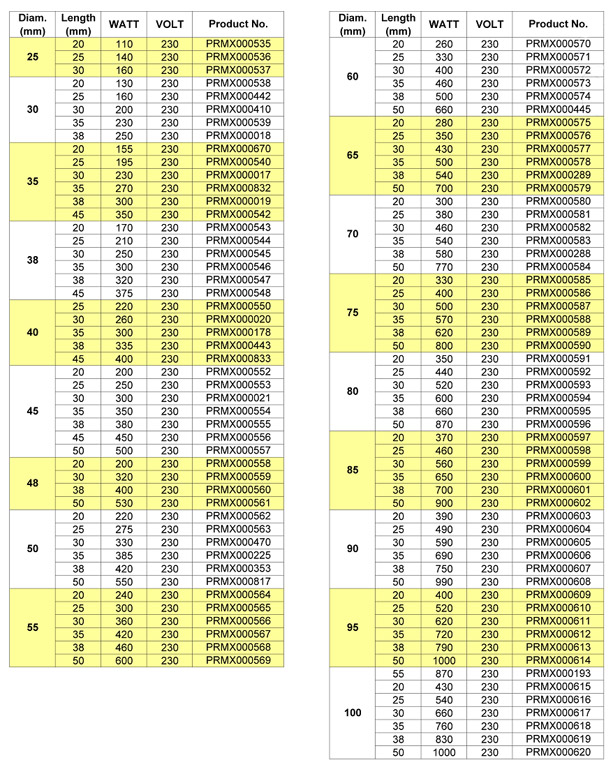 PIROSLIM extra-slim Nozzle Heaters
These heaters are not sealed against liquids Please choose Piromax (see above) for sealed construction Standard models are in stainless steel, with 1m-long metal-braided cable, inclusive of ground conductor.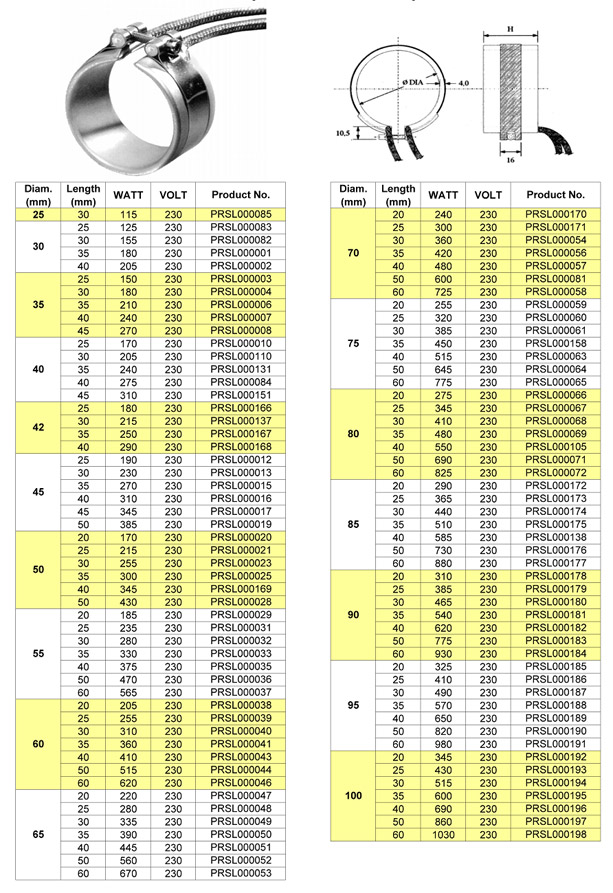 MgO-insulated Nozzle Heaters
Their compacted, high-purity MgO insulation provides high electrical insulation and thermal conduction. The AISI 304 stainless steel sheath makes these heaters corrosion-resistant and fully sealed against water, oil, melted plastics. The smooth inner surface and perfect roundness provide high, fast and uniform heat transfer to the whole
nozzle.
Construction features allow high power densities (up to 20 W/cm2) and high working temperatures (up to 500 °C constant, or 700 °C for brief moments). Extremely small connection tube connecting to a high-temperature, flexible, fiberglass-insulated, pure- nickel, 500·mm long cable, protected by a steel braid. As an option, these heaters can be fitted with J or K thermocouple.