Square Cross-Section Tublular Heaters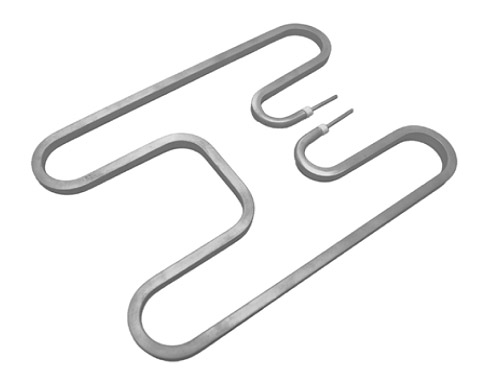 Features
The most advanced technological solution for injection manifold heating.
The square cross-section ofthe heating length results in a very high level of heat exchange.
Installation is very easy: no fixing is needed to hold the heater in its seat. It is simply necessary to work a square section groove where to fit and press-down the heater in its final position.
Square Cross-Section Heaters will guarantee both the perfect stability in the groove and the perfect contact and heat transmission on three sides of the heater.

Technical Data
· Cross section: 6 x 6 mm (along heating length).
· Tolerance on cross section sides: +- 0.15 mm.
· Tolerance on length: +- 5 mm for lengths up to 250 mm, +-1 2 % for lengths over 250 mm,
· Tolerance on the length of unheated parts, at each end ofthe heater; +- 5 mm.
· Tolerance on power: +5%/-10%.
· Electrical strength: 1500 V.
· Electrical insulation, when cold, with 1000 Vcc: > 10 MQ.
· Leakage current, when cold; < 0.1 mA.
· Maximum working temperature (external sheath): 750 °C.
· Sheath material: AISI 321 stainless steel.
· Minimum bending radius to the heater's centerline, with 6x5 mm section; 15 mm.
· Important; unheated (round) part at both ends shall not be bent.